Off Season Development
---
---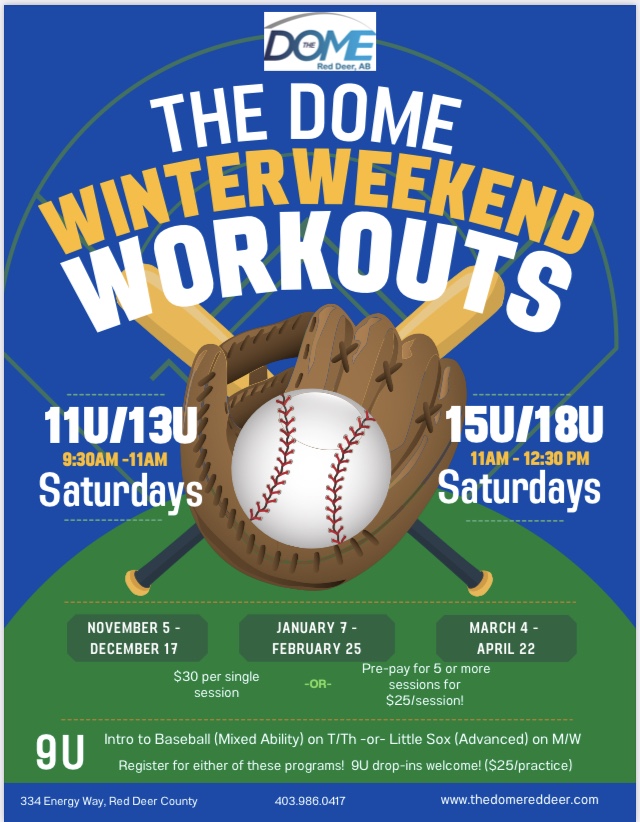 ---
Red Deer Minor Baseball Association is pleased to announce that we have coordinated with The Dome to provide programming, that will be taking the place of what was previously RDMBA's drop-in, off season development sessions. We support this programming being offered by The Dome and its coaching staff, believing it will be a positive, developmental experience for all players. The Dome Winter Weekend Workouts are available to players of all skill sets. The Dome also extends the same offer to parents wishing to help or simply observe coaching methods, just as RDMBA did. If you wish, and are able to help on the field, you are welcome, and encouraged to do so.
Players must bring a baseball glove, spill proof water bottle and clean indoor shoes or cleats (not metal). If you have a bat and helmet, please bring those as well, but they are not required. Long pants are recommended over shorts.
Should you have any questions regarding these sessions please contact The Dome directly. RDMBA is simply relaying the opportunity and information to our athletes as we will no longer be operating our off- season development sessions.
* Nov 5 session will be drop in, no need to pre-register. Payment can be made that day at The Dome