RDMBA 16U Braves Win Inaogural Rawlings Cup
---
---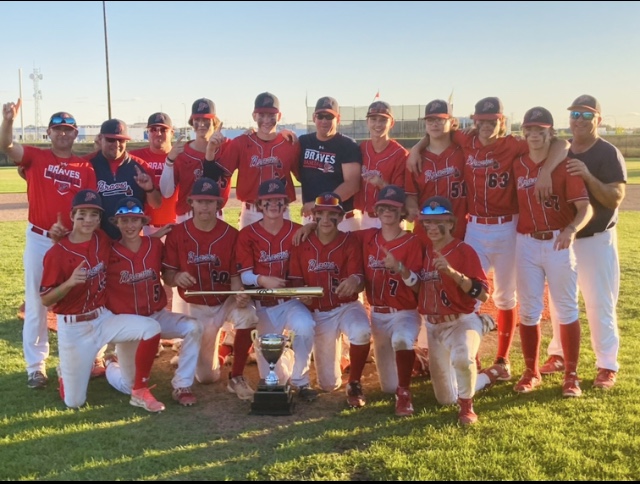 ---
The Red Deer Braves 16U team led by head coach, Randy Russell came together in Sherwood Park this past weekend to compete in a 12 team tournament for Baseball Alberta's inaugural Rawlings Cup Showcase.
Braves came home the champions!
The weekend's summary:
Game one against Black Gold 47s (Leduc) was not the start to the tournament that we wanted. We lost the game 5-2. Our team was a little nervous to say the least. A few highlights of this game were: Brett Belich went 3 for 4 at the plate to start his amazing weekend. Luke Schmitt got the start and was strong out of the gate. Grady Rodzinyak came in to pitch relief and performed very well under a high pressure, loaded bases situation. Addison Giesbrecht was impressive at first base with several plays that showed his athleticism.
Game 2 against Calgary Bucks was a must win game to send us to the quarter finals. Our bats finally came alive in the fifth inning. Jake Brooks pitched a spectacular complete game. The team came out on top, 5-0. Jake was backed up by impressive defence from the team. The outfield was impressive throughout the weekend, and they displayed their talents in this game. Burke Shulte-Bates in left field, Avery Coumont in centre field, and Rylan Arnold in right, showed great skill.
Game 3 against Sherwood Park in the quarter finals. Evan Russell pitched a complete-game gem. The bats were impressive and the base running showed experience beyond their years and we came out with a 8-1 win to send us to the semi-finals. Jake Brooks at short and Noah Nakonechny on third base with Luke Schmitt at second, made beautiful defensive plays. Grady Rodzinyak was solid at first base.
Game 4 against Webber Academy in the semi-finals. Noah Nakonechny pitched another complete game for our team. His performance was dominant and he was supported by Addison Giesbrecht with 2 home runs, and Tanner Morrow with one. Ryder Petryshen made an amazing catch in center field. Nathan Flewelling caught for the majority of the weekend and was solid. He allowed very few pass balls and kept runners at first with his impressive arm. We walked away with a 7-1 victory that sent us to the finals.
Game 5: the finals against Black Gold 47s. The boys were looking for retribution walking into this game. Nathan Flewelling pitched the full game; six strong innings. The majority of our runs came in the second inning. The line-up hit very well with everyone contributing. Our defence hit its stride with multiple double plays thanks to the efforts of Tanner Morrow, Jake Brooks and Addison Giesbrecht which frustrated the Black Gold batters. Rylan Arnold hit a hard single to score the run needed to clinch the win in 6 innings, with a score of 13-3.
The Red Deer Braves had 5 of their players invited to participate in this coming weekends Western Canada's Prospect Series including: Brett Belich, Nathan Flewelling , Addison Giesbrecht, Noah Nakonechny and Evan Russell.